Sports | July 25, 2011 [ 2:13 ]
Andina
Peruvian President Alan Garcia inaugurates renovated Estadio Nacional (National Stadium) in Lima on Sunday. (Photo: Sepres)
Peruvian President Alan Garcia Perez on Sunday formally inaugurated the renovated National Stadium in Lima, which has been designed to seat over 45,000 fans and for both high definition television coverage and spectator comfort.
The ceremony was graced with the presence of Peru's national football team, who had just returned from Argentina after claiming third place at the 2011 Copa America.
"They represent the new spirit of the country, this new found Peruvian spirit who wants to succeed and knows that it can achieve greater things," President Garcia said in front of a 45,000-strong crowd.
He praised the Peruvian team for their victories and bronze medal at the South American tournament held in Argentina and hailed them as "the expression of a nation that through its workers, technicians, professionals and entrepreneurs has moved towards its destiny, earning the world's admiration."
With an investment of 206 million soles (US$75 million), the president recalled that the National Stadium was renovated and expanded after 59 years since its construction.
"On behalf of the Peruvian people, I inaugurate the new National Stadium Of Peru as a tribute to the youth of the country," Garcia said right before the fireworks show commenced.
The inauguration ceremony began around 17.00 hours (22.00 GMT) and ended almost six hours later with a goalless friendly draw between the Under-20 teams of Peru and Spain.
Sports | July 23, 2011 [ 16:19 ]
LivinginPeru.com
Paolo Guerrero (Photo: LaRepublica.pe)
Peru takes the bronze in the Copa America 2011 tournament after beating Venezuela 4-1 with goals by William Chiroque and three by Paolo Guerrero.
The team will fly back to Lima tomorrow night.
Sports | July 23, 2011 [ 13:12 ]
Willian Chiroque. (Photo: El Comercio)
LivinginPeru.com
At halftime, Peru leads Venezuela 1-0 in the battle for third place in the Copa America 2011.
See the
goal by Willian Chiroque
from a Paolo Guerrero pass.
Watch the game live via
ATV on the web
.
Sports | July 20, 2011 [ 11:49 ]
LivinginPeru.com
A controversial ad aired during half time of the Peru – Uruguay soccer match, on Tuesday night.
The ad featured former coach of the Peruvian national soccer team, Juan Carlos Oblitas, talking about losing a match to Chile years back.
In the ad Oblitas states that Chile is the 8th country that attracts most mining investments, while Peru was only 48th.
Oblitas then mentions that this was due to mining companies paying more taxes in Peru, and ended with a rhetorical question "Are we going to let them keep beating us?"
Seconds after airing, the Facebook page for National Society for Mining, Petroleum and Energy – the lobbying group responsible for the spot – was filled with comments.
One comment said, "Did they really think that bringing this anti-Chile sentiment was going to get people to support them? Did they really believe that Oblitas is popular? It made me cringe."
Another read, "Instead of proposing something reasonable they make a really stupid commercial. They make so much money and they can't do something smart?"
According to local media, negative comments on the Facebook page were quickly deleted.
After Peru lost to Uruguay 2 – 0, Twitter was also flooded with comments about the ad with many superstitious soccer fans blaming Oblitas for the loss. The hash-tag #culpadeOblitas (Oblitas' Fault) quickly became a trending topic on the site.
Sports | July 19, 2011 [ 20:55 ]
LivinginPeru.com
Photo: elcomercio.pe
Two goals by Luis Suarez leave Peru out of the final Tuesday night after a game dominated by Uruguay and which left Peru with 10 men in the second half after captain Juan Vargas saw a red card for an elbow to Sebastian Coates.
Peru will play Saturday for third place against the losing team in tomorrow's game between Paraguay and Venezuela.
Sports | July 19, 2011 [ 15:51 ]
LivinginPeru.com
Peruvian football team (Photo:Reuters)
The Peruvian football team has won $2 million so far. Winnings could reach up to $3.5 million if they get to, and win, the final match of the Copa America.
According to the website infobae.com, each team receives $250,000 per match in the first phase of the tournament and $500,000 if they make it to the quarterfinals.
The Peruvian team received $750,000 for reaching semifinals, after beating Columbia 2-0, this past Saturday.
On top of the tournament money, each team's national football association usually gives players a bonus. For instance, The Brazilian Football Confederation would have given each player on the team $115,000 if they'd won the final.
The Peruvian Football Association has not yet agreed on a prize if the squad wins the tournament.
The remaining teams in the tournament are Peru, Uruguay, Paraguay and Venezuela.
The final will be played in Buenos Aires, Argentina on July 24th. The team that wins the tournament will receive $1.5 million.
Sports | July 16, 2011 [ 13:41 ]
LivinginPeru.com
Peru qualifies to semi-finals (Photo: elcomercio.pe)

Peru beats Colombia 2-0 in overtime with goals from Lobaton and Vargas. The national team is the first semi-finalist in the Copa America tournament. Next up: Argentina-Uruguay.
Sports | July 14, 2011 [ 10:07 ]
LivinginPeru.com
The Cordillera Blanca (Photo: Peruvianandes.com)
One of Peru's most popular destination points for extreme sports enthusiasts is also one of the deadliest.
So claims Marco Carrera Torres, chief of the National Police's High Mountain Rescue Unit in in the Cordillera Blanca in the Anchash region of northern Peru.
According to Carrera, in a report published in Peru 21, from 2010 to the present, 27 tourists -- mostly Europeans and North Americans -- have died while seeking adventure in the Cordillera's challenging, snow-covered peaks. An additional 21 tourists suffered serious injuries.
However, Carrera also wanted to make clear that of those 27 fatalities, only two occured in 2011. One was a Polish mountain climber who fell into a snowy crevasse from the Alpamayo peak. The other was world-famous French para-glider Xavier Murillo, who died on July 1 while trying to fly over the snow-covered Huascarán.
Carrera told RPP news that from June to September, the Cordillera Blanca receives up to 8,000 tourists, some of whom put their lives at risk by not taking into account proper safety measures.
According to Carrera, though many lack the proper credentials to be professional mountain climbers, they still risk taking on the snow-covered peaks without a guide. And when they do take a guide, many do not follow him. He also notes that foreigners also disregard the area's climate and high altitude.
There are also tourists categorized as simply missing, though presumed dead. In 1999, three climbers disappeared; two foreigners and one Peruvian.
Sports | July 9, 2011 [ 15:26 ]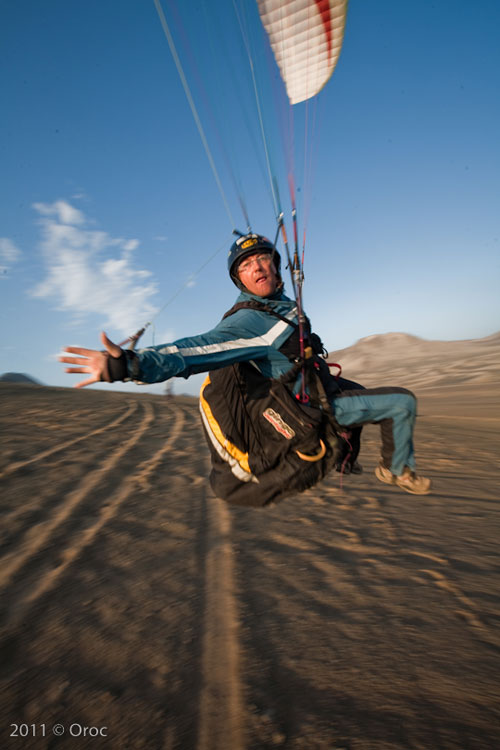 Xavier Murillo.
LivinginPeru.com

Extreme sports enthusiast, renowned photographer, and world-famous paraglider, Xavier Murillo, was found dead Thursday in the Peruvian Andes.
The sad discovery dashed hopes for his friends, family, and fans that he would have survived after he went missing on July 1st. Murillo, who was 55, was in the Cordillera Blanca of northern Peru.
He and his fellow pilots were training for a future competition, hoping to glide from the city of Caraz to the city of Huaraz, but Murillo quickly separated from his airborne companions and did not reach them with either his cell phone or radio. The website Expatica.com reports that Murillo made an initial descent on a new route, but then lost control of his equipment.
The Paragliding World Cup staff, the local French Embassy, as well as volunteers, took part in the search which ended when Murillo's body was recovered on Huascaran mountain, on a snow-covered moraine, at an altitude of 5,500 meters.
El Comercio reports that Carlos Gonzales, of the Áncash-Caraz region's High Mountain Search and Rescue Operation was contacted at 6 am Thursday morning by the search team, which broke the unfortunate news.
Murillo had over 25 years of experience in his favorite sport.

Sports | July 9, 2011 [ 9:08 ]
Reuters
Guerrero's last minute goal puts Peru closer to quarter finals (All photos: Reuters)
Peru edged Mexico 1-0 at the Copa America on Friday to move level on points at the top of Group C with Chile, who had earlier come from behind to draw 1-1 with Uruguay.
Paolo Guerrero claimed his second goal of the tournament to give the Peruvians a deserved victory against an under-strength Mexico, stroking the ball home from close range in the 82nd minute after being left unmarked at the far post.
The win put Peru on four points alongside Chile and leaves World Cup semifinalists Uruguay third in the group on two points, needing a positive result in their final game next week to advance to the quarterfinals.
Having drawn their opener against Peru, Uruguay went in search of a win against Chile and Luis Suarez should have put them ahead after 19 minutes but blasted over after Edinson Cavani had put him through.
Eight minutes later, a mix-up in the Chilean defence left Diego Forlan with a free header from the edge of the six-yard box with Chilean keeper Claudio Bravo stranded, but defender Pablo Contreras cleared the goal-bound effort off the line.
Chile's closest first-half effort came from a bizarre deflection. Uruguayan defender Diego Lugano attempted to boot the ball clear but it hit Chile's Mauricio Isla and floated over Fernando Muslera towards the Uruguayan goal but came back off the crossbar.
However, nine minutes after the break, Alvaro Pereira broke the deadlock for Uruguay. Suarez was the provider, crossing from the left for the Porto player to stroke home. Chile went on the attack and in the 65th minute, Sanchez buried a low shot in the far corner of the Uruguayan net to earn his side a point.
Watch video: